Youth Groups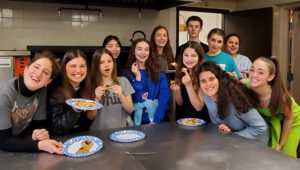 Kadima
In Hebrew, Kadima means forward. To our students, grades 5-8, it means participating in Jewish life and making friends. Emphasis is on fun activities, combined with social action and tzedakah projects which prepare the members for participation in United Synagogue Youth (USY).
United Synagogue Youth (USY)
Shaarey Tikvah USY (STUSY) offers exciting social, religious, and educational programming for students in grades 8-12 at Shaarey Tikvah. Many of our events occur at the synagogue (such as lounge nights, movie nights, sporting event watch parties, lunch and learns, and cooking events) and other events occur off-site (such as SkyZone, Whirley Ball, and volunteer projects.) Our youth are integrally involved with many of the synagogue-wide activities including opening the ark for Neilah on Yom Kippur, assisting with Junior Congregation, celebrating Purim and Simchat Torah and participating in other facets of synagogue life as needed.
Members of STUSY also participate regionally and internationally with USY attending 4 regional kinnuses (conventions) a year, summer programs in Israel and America and even by serving on the regional board. Parents can help support STUSY by encouraging teens to become a member and attend events! For any questions, please do not hesitate to contact Rabbi Roland.