Service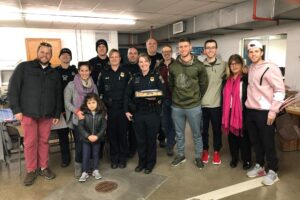 Chesed
At Congregation Shaarey Tikvah, we take seriously the teaching of Pirkei Avot (Sayings of the Fathers) that the world rests on three things: study, prayer, and acts of lovingkindness. Within our community, we care for each other in many ways, including:
Preparing and delivering meals to families in mourning or after the arrival of a new baby
Providing rides to synagogue or other important appointments
Visiting the homebound or those in nursing home
Hosting a Shabbat or holiday meal
Shopping for groceries for those who can't get out
Tzedek
We also work to extend our circle of caring and justice to make a difference in the lives of marginalized members of our wider community in Greater Cleveland. Many of our members are involved in this work, both professionally and as volunteers. As a congregation, we also undertake a number of projects each year; these have included:
Food collection and donations to the Hebrew Shelter Home, Cleveland Food Bank, and Kosher Food Pantry
Collecting pots and pans, dishes, school supplies and bicycles for refugees.
Keeping a local Little Free Library stocked with children's books
Collecting toiletries and other supplies for the Mount Pleasant community
Making and delivering holiday treats to local first responders
Collecting coats, hats, gloves and other warm clothing for the homeless
We welcome participants as well as ideas for future projects. If interested, contact Martha Sivertson.