Committees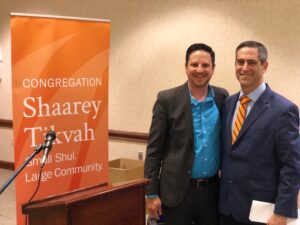 As a small congregation, Shaarey Tikvah offers genuine opportunities to get involved in the life of the synagogue—from reading Torah, leading services, and giving divrei Torah, to organizing events and serving on committees that benefit our community and strengthen your skills as a leader.
CST is run by a number of committees that meet regularly. We are also lucky to have countless volunteers who help in the office, bake goodies for kiddish, run programs, and contribute in a myriad of ways. There are too many people to name here, but they are the lifeblood of our congregation.
Executive Committee
This committee works to formulate and implement the vision and goals of the synagogue. The Executive Committee consists of the officers of the synagogue, plus two past presidents as selected by the current board president. The Executive Committee is chaired by Jessica Shapiro, Board President.
Budget and Finance Committee
This committee formulates the annual budget and tracks income and expense through out the year. Budget and Finance is chaired by Jeff Cohen, Board Treasurer and Leslie Sobel, immediate past president.
Development Committee
This committee is designed to plan fundraising programs appropriate for CST needs.
Education Va'ad
This committee works with Education staff to develop programs for children and adults. The Shabbat School and Adult Lunch and Learns come under this committee. The Va'ad chaired by Erin Stone Tompkins
Worship Committee
This committee is charged with evaluating service related issues and is chaired by David Hutt.
Membership Committee
This committee is charged with evaluating current membership issues as well as the recruitment of new members. The Membership Committee is chaired by Janna Dorfman.
Marketing Committee
This committee helps set the marketing strategy for the synagogue and assists with supporting our staff on marketing initiatives, like this website. The Marketing Committee is chaired by Alyson Fieldman.
Nominating Committee
This committee exists to identify and nominate future Board leaders for the synagogue. In 2021, the Nominating Committee was chaired by Jeff Epstein.